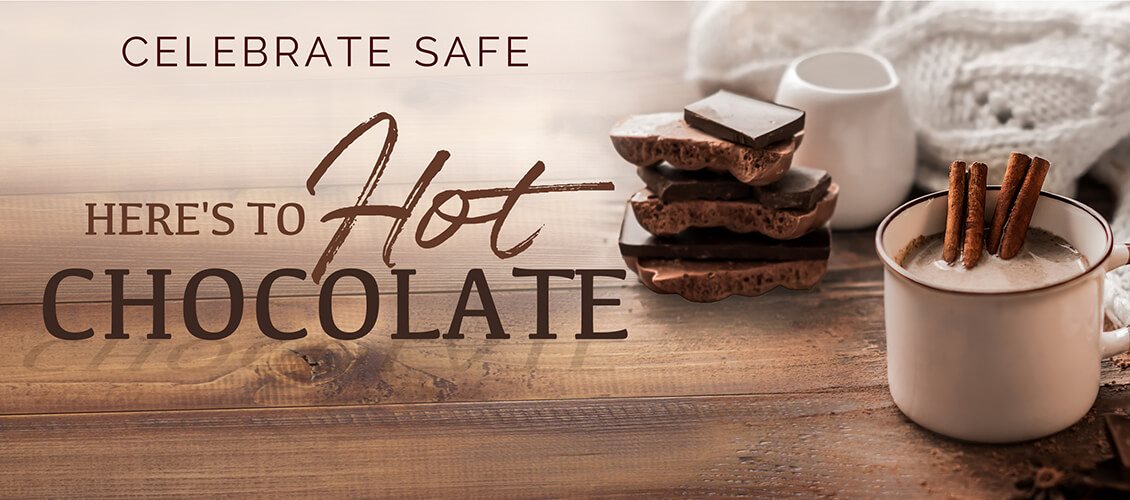 Here's to Hot Chocolate
Snack boards and grazing tables are the latest trend for offering lots of choice and options for different tastes to your guests. But with the cold weather, and leftover Christmas candy, wouldn't it be nice to serve up a snack board that warmed you up and satisfied your sweet tooth? The hot chocolate snack board might be the answer.
Grab your favourite tray or board, a few small bowls and fill 'em up with anything and everything that might snag a chocolate lover's attention. Some great examples are candy canes, chocolate truffles, rolled wafer straws, whipped cream, cookies, sprinkles, and marshmallows (obviously). And while offering up a choice of creamy liqueurs or spicy spirits is a great addition, leave them as an add on in case someone would like to forgo the alcohol. Adding lots of choices to add in, besides the spirits, will make everyone feel welcome to partake and comfortable.
Now for the important part: The hot chocolate.
You could serve your board with powdered hot chocolate to keep things very simple and still delicious, but if you would like to go the extra mile, here are three homemade recipes that will have you scraping the bottom of the pot with your ladle.
Orange and Cardamon Spiced Hot Chocolate
4 cups whole milk
1 cup semi-sweet chocolate (baking chocolate or chips. Baking chocolate has less added sugar, but it's up to your taste!)
Pieces of orange rind from half an orange plus extra for garnishing
1 1/2 tsp ground cardamom
Directions
Using a vegetable peeler or knife, peel pieces of rind from the orange (clementines work great too). Make sure to set a few aside for garnishing.
Add milk, cardamom and orange peel to a saucepan.
Bring to a simmer on low, stirring often. Simmer for 5-7 minutes so that the orange flavour infuses in the milk.
Strain out orange peels with a slotted spoon.
Chop baking chocolate and add to the saucepan. Of if you're using chocolate chips, toss them right in.
Stir often until chocolate is melted through.
Ladle into mugs and garnish with an orange peel.
Slow Cooker White Hot Chocolate
1 bag (2 cups) white chocolate chips
2 tsp vanilla
6 cups 2% or whole milk
Directions
Add all ingredients to a slow cooker, mix, and set to low for two hours stirring every so often.
Give it one last stir just before serving and enjoy. So Easy!
Polar Express Hot Chocolate
(does anyone else remember how amazing that stuff sounded in the book?)
6 cups 2% milk
1 can sweetened condensed milk
1 ½ cups heavy whipping cream
2 cups semi sweet chocolate chips
1 tsp vanilla extract
Pinch of salt
Directions
Add all ingredients to a pot and heat on low, stirring frequently until all chocolate is melted, approximately 30 minutes. Add more milk to adjust taste as desired. Enjoy!