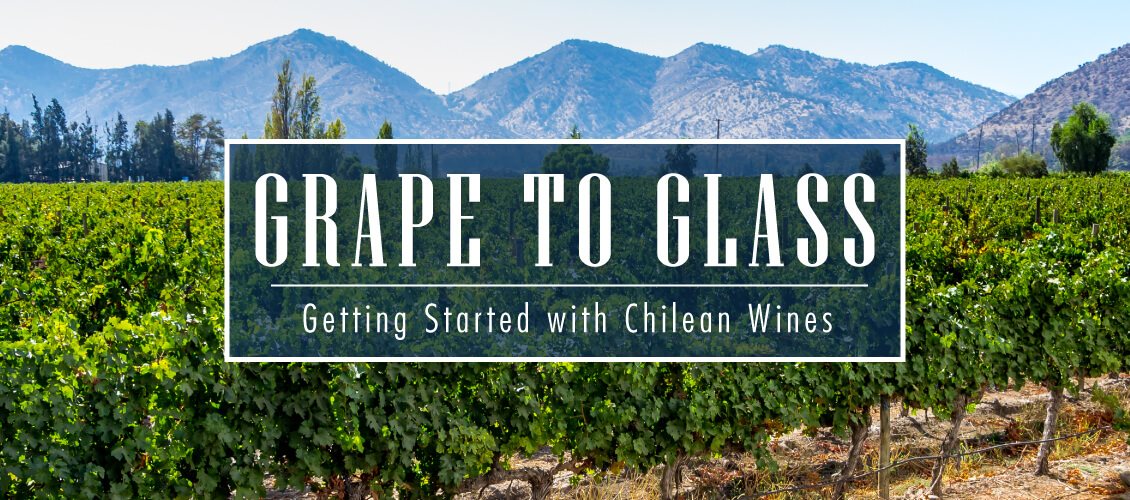 Grape to Glass is here to answer every question you've ever had about wine! Our wine team takes the time to become experts in their field so they can bring the best flavours straight to New Brunswick from around the world. They are always here to share their insights and answer your questions. Message us on Facebook at anytime if there is a wine question you would like us to answer on Grape to Glass!
This time we asked them, "What's the deal with Chilean Wine?"
Chile, by all standards, has the key ingredients as a country to produce wines of great quality. Nestled between the Pacific Ocean and the Andes in South America, it has become synonymous with producing wines that can offer outstanding value, while also garnering critical acclaim for its more premium offerings. Due to its vast array of climates and typography, Chile has the ability to produce wines in a number of different styles at different quality levels.
So, what makes it special and what has solidified its spot as a 'go to' country of origin for the NB wine consumer?
Firstly, it's worth noting that wine has been produced in Chile for a very long time! Winemaking has been established here since the Spanish settled in the 16th century. There are more obscure varieties that have become popular through the years but, large producers have utilized its region's ability to produce wines made from household varieties such as Sauvignon Blanc and Cabernet Sauvignon that have great mass appeal. Its domestic market has been alive and well for decades, however, the boom of its wines from an export perspective only really came to fruition in the 90's (pretty young compared to its old world competitors). Now, its largest producer, Concha Y Toro, is a household name, being the largest producer of wine in South America and one of the worlds top 10 producers by volume! In New Brunswick, based on sales in the last year, Chile is our fifth favourite country of production, only trailing behind well established countries such as Italy & Australia.
The key term that springs to mind when coining Chilean wine is definitely 'value'. For white wines, Chile's plantings are dominated by Sauvignon Blanc and Chardonnay. Sauvignon Blanc especially, has carved its path here for wine lovers. Chilean Sauvignon Blanc can be extremely well balanced with great acidity, a fresh herbaciousness, and lots of tropical fruit notes making it approachable and fitting for most occasions. From a red perspective, Cabernet Sauvignon and Merlot are the go-to. Although a broad range of styles can be produced, Cabernet Sauvignon from Chile typically has lots of round red fruit and good structure making it perfect for BBQ pairings this coming summer. Another red variety that has been very successful from Chile is Carmenere. Carmenere, originally from Bordeaux, was long thought to be Merlot, and has now been correctly identified. Examples of Carmenere can have lots of complex dark fruit and a distinctive herbal character.
This month sees the return of our ever popular promotion of Santa Carolina selections for Buy 2 Get 1 FREE. This could be your chance to experiment with Chilean wines for the first time so why not use the Santa Carolina as a springboard to explore one, or more, of the following options this spring at ANBL:
Santa Carolina Reserva Sauvignon Blanc
Price: Regular $15.49
Buy 2 Get 1 Free – March 29th – May 9th
Refreshing and zippy, this is a great introduction to Chilean Sauv Blanc. It has some lovely citrus notes as well as balancing flavours of tropical fruit.
Santa Carolina Reserva Carmenere
Price: Regular $15.49
Buy 2 Get 1 Free – March 29th – May 9th
Lots of dark fruit and that characteristic herbaciousness, this is a go to. With the weather improving, it's great for a Saturday evening BBQ with friends and family.

Marques de Casa Concha Cabernet Sauvignon
Price: $28.98
This is a great premium offering from iconic producer, Concha Y Toro. Offering a supple and rich texture, it has great structure, lots of ripe dark fruit and bold tannins. Definitely a step up, but well worth the + $20 price tag.
Emiliana Signos De Origen White Blend
Price: $21.99
New from our 'Experience Essential' line up, this is a white blend from organic producers Emiliana. Made from grapes traditionally found in the Rhone Valley of France, it has lots of white fruit and stone fruit with a delicious, round texture.
Luis Felipe Edwards Pinot Noir

Price: $15.99
A slightly more concentrated and richer example of Pinot Noir, it definitely over delivers on quality compared to price. Soft and balanced, it has some great notes of cherry and spice. Great with Pork or roasted poultry.
Price: $15.99
A clean vibrant chardonnay from acclaimed producer Montes, this is a great go to for lovers of Chardonnay that enjoy a more medium-bodied option with a little added freshness.